Hollywood Blvd. had its usual displays up: the trees and lights atop the Pantages Theater, the Capitol Records tower brightly lit roof-top Christmas tree and even a tall crane with lights at a near by construction lights. Thankfully the Scientology "village" and dispays were less this year. I had other plans so I had to leave the blvd. before the Hollywood Christmas Parade started then I even missed it when it was televised on TV-doh!
I missed Christmas-themed events at
the Grove and Beverly Center
mall in Beverly Hills, too but caught some at
the Burbank Mall
and in Glendale at
the Galleria
and especially at
the Americana
where I saw characters dressed as
gingerbread men, toy soldiers
etc.
And I saw a very realistic-looking
Santa at the monthly meeting of the Alameda Writers Group (AWG) at the Glendale Library on 12/5/12.
The usually
Christmas light display at Griffith Park
was cancelled due to water main work by the
LA DWP
. Many families came expecting to see the lights and were very disappointed. Funny, that night
CBS
showed an episode of the
"Big Bang Theory"
that mentioned them doing their annual drive to see the ligths at Griffith Park. This probably sent more people out to see the lights but the episode was funny- lol. They also shut down
the William Mulhulland Fountain
(my fav) for months of repairs (Booo-ooo!) .
There were also no
Christmas Eve or Christmas Day service
as many Ecclesians seem to be heading out of town to be with family. So, I did the same as my Mom and family were in town. We sang
Christmas carols
as we drove down to spend Christmas in Rialto with my cousin and her triplet girls. They had insisted that their mom bake and icing sugar cookies and ginger bread men so I was set in the sweets department. We also saw lots of Christmas lights on display to and 'fro while on the road so my light appetite was filled, too : )
What was my
Christmas gift this year? The blessings of being together as a family after as much as 30 years.
Then it was off to see more cousins at the
Ice Kingdom's
Winter Chill Exhibit at the Queen Mary in Long Beach
. Long Beach was even colder than L.A. and breezy but we still donned the provided insular parkas and went into the near sub-zero temps of the Chill exhibit. Outside were
ice skating rink
and
Victorian-era
dressed professional singers
caroling around the mock Christmas city
or on various stages.
Santa's workshop
was closed and his sleigh empty but the places selling hot chocolate, candy and danish were packed.
Inside the exhibit was a
large icy slide for sled and inner tube sliding
and dolphin ice scluptures along with an
ice sculpture miniture
of the Queen Mary herself. The other halls were filled with ice sclupture of every
variety including, snow princess and fairy tale castle, teddy bears, santa in a wreath, with a candy cane, wrapped gift boxes with bows...
And the piece the resistance, an ice sculpted wall and
stained glass window of a church
leads you into a
life-sized Nativity scene complete with a sculpted crystal-looking donkey, cow, sheep, lamb, shepherd, angels, Joseph, Mary, straw and manger and of course ... Baby Jesus!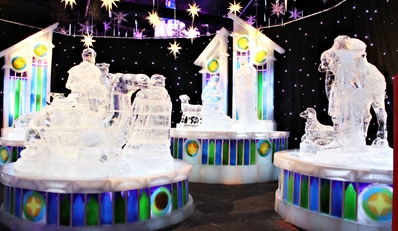 Not to be left out, there were ice sculptures of
a Star of Davis and the menorrah for Hannukah
and a red, black and yellow
iced Kwanza scupture too.