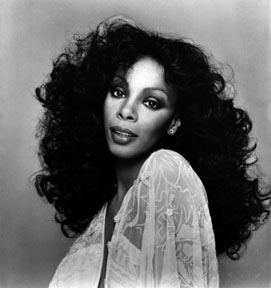 More Falling Stars:
News reports state that
70s Disco songstress aka "the Queen of Disco", Donna Summer,
has died from
lung and possibly breast cancer
at age 63. Ms. Summer early hits like
McArthur Park, Hot Stuff
and
the moan-filled
, Love To Love You, Baby"
were the rage of the 70s night clubs, record stores and radio stations. Despite the erotic nature of some of her songs, Ms. Summer was still my favorite singer of that era along with
Gloria Gaynor, Patti Labelle,
Chaka Khan
and way before
Whitney Houston
and
Anita Baker
. Summer's songs,
"Dim All The Lights", On The Radio
and
Enough Is Enough (her duet with Barbara Streisand),
were among my favorites and I remember dancing and singing to her LPs for hours. I love to dance and Summer's songs always had a great dance beat that evolved beyond disco. In fact, Summer is often credited for starting
the electronic dance craze
that is so hot today.
Ms. Summer was born
LaDonna Adrian Gaines
and grew up in a
Christian family
. She began singing in the church as a child then she moved on to sing in musicals like
Hair, Show Boat and Godspell
in the
U.S. and Europe
. Summer's career continued pass the disco era into the 80s and 90s with hits like the woman's empowering,
"She Works Hard For The Money"
and a
Christmas album
. She won a total of
5 Grammy Awards
, garned a star on The
Hollywood Walk Of Fame
and was also inducted into the
Dance Music Hall Of Fame
.
Summer tried her hand at acting and had a role in the film,
Thank God It's Friday.
She appeared as a guest star on many
TV shows and TV specials
and
televised events including MTV and President Ronal Reagan inaugural in the 80s
. She appeared on the X Factor as recently as last season.
Summer had talked openly about her
struggles with depression and suicide
but she had had a spiritual conversion in the 90s and became a
born-again Christian
. Summer returned to her greatest hits tour and she often toured with many greats like
the Bee-Gees
. Summer was said to have been in the studio recording around the time of her death and reports said that she was due to go back on tour again soon.
Donner Summers will be greatly missed but her music lives on. Our prayers go out to Donna Summer's husband and daughters at this sad time.
Rest in peace, Donna Summer.
"Ah! Ah! Ah! Ah! Staying Alive..."
Update: Ah, the words to this song seems so sad now as I just heard that
Robin Gibb of the Bee-Gees/Gibbs Brothers
fame has lost his battle with liver against liver cancer in the U.K.
The Gibbs, a trio from England /Australia
known for their falsetto sound rose to fame after singing the
award winning 70s disco sound track
for
Saturday Night Live
.
Funny, they Bee-Gees had toured with Donna Summer and they were inducted into
the Dance Music Hall of Fame
together and now both past away so close together. The Bee-Gees have certainly had their share of tragedies. They. lost youngest brother,
Andy Gibb
due to a drug habit and myocarditis in the 90s and Robin's
fraternal twin, Morris died
from twisted intestines in 2003.
Robin himself fought courageously to beat his cancer but reports had said that his health had taken a recent turn for the worse.
Older brother, Barry Gibb is now the only surviving Gibbs brother
so we send prayers to him and Robin's family. It is unclear what faith Robin Gibb followed while living but I pray that his family may be comforted and that
he rests in peace
.